PLEASE NOTE
Our stock is running low due to the Meat Processing Facility closing for
their yearly maintenance.  We apologize for the inconvenience.
We think that you will love these
---
Who are we?
Nandoe pet treats started in 2010 with the aim to supply "real" and healthy treats to our best friends. The word Nandoe originates from the South American word for ostrich. As Nandoe's first product was the ostrich bone and mostly ostrich by products. We are situated in Oudsthoorn, Western Cape and this region is known for farming with ostriches.

Nandoe has since expanded its range from not only ostrich but chicken, pork, beef and venison. Nandoe has undergone a lot of construction since 2010 and are now owned by 3 partners whom are all interconnected in the ostrich industry from farming to the end products. Nandoe's goal is to provide the best possible quality treat to your dog at an affordable price. Making a Nandoe dog a happy dog.

From 2010 we have expanded from the Western Cape to Eastern Cape, Gauteng, Free state and Kwazulu Natal. We deliver to more than 700 vet and pet shops in South Africa. If Nandoe isn't part of your dogs daily lifestyle please mail us at info@nandoe.co.za and we will be glad to assist you. If ever in Oudtshoorn, do not hesitate to visit.
Doggie love
Nandoe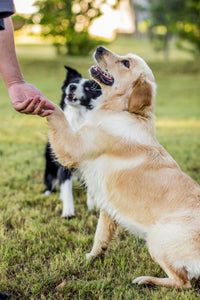 Come say hi
We would love to hear from you!
Feel free to leave us a message on social media or send an email to: info@nandoe.co.za
You are welcome to speak to us directly +27(44) 8680966.
Or just pop in at our home in Oudtshoorn, where the factory shop is located.
We are also available in Pet shops & Veterinary clinics around South Africa & Namibia.
. . . 
List of Stockists
...
" In the whole history of the world there is but one thing that money can not buy… to wit – the wag of a dog's tail "  Josh Billings